When all hope is lost enters the bright hope of Christ.  Just like the message in the old hymn, MBCH is bringing the message of Hope into lives by being the loving hands of Christ.  The Bleak Midwinter Endurance Run is a run of endurance to raise support to continue this Hope.  Runners participate in a long day of testing their endurance while the Carbs and Cowbells Support tent encourages, inspires and feeds participants to keep them running the race.  It is a fun, exciting day of endurance, encouragement and lots of cowbell ringing.  Join us either as a runner or support worker and be Hope in the bleak midwinter!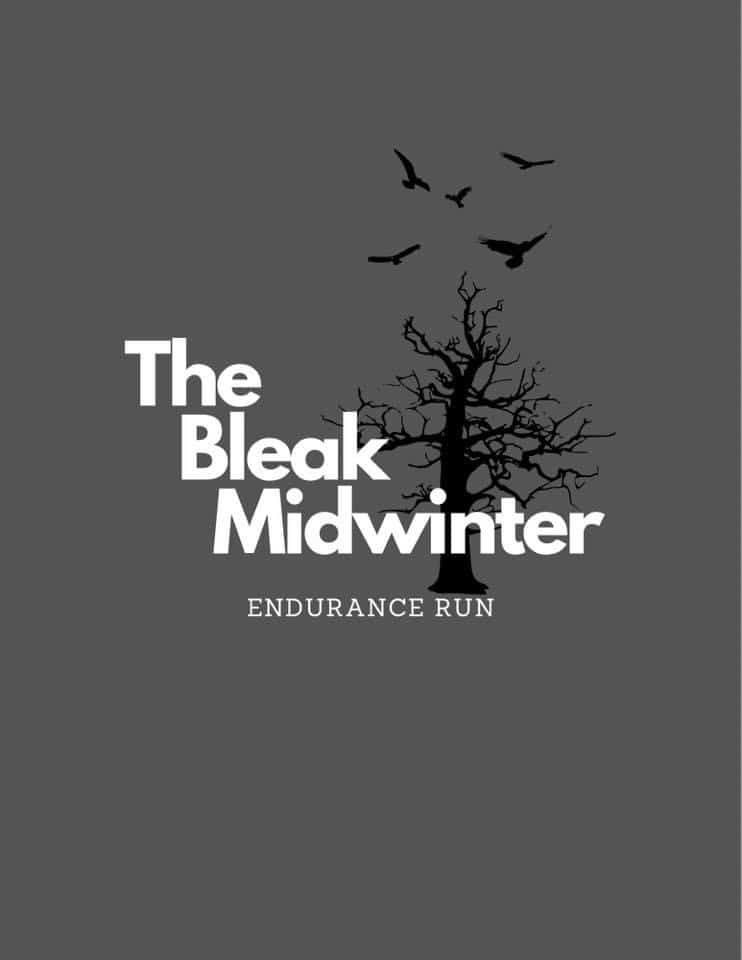 Date: January 27, 2024
Welcome to the 2nd annual Bleak Midwinter Endurance Run, a timed endurance run on a 4.1 mile loop trail! We are proud to offer four different timed events: a 12, 6, 3, and 1 hour run option. We'll keep it simple and enjoyable for everyone with great support, lots of food, and fun swag. Come get your Crow on a Stick!
Location:
Sac River Mountain Bike Trails is located off Highway 13, three miles north of I-44 in Springfield, MO. Heading north, watch for a brown highway sign marking the westbound turn onto an unnamed road to the Northwest Water Treatment Plant. There isn't a physical address for the trailhead, but the location is accurate on Google Maps and Apple Maps if you search for "Sac River Mountain Bike Trails". This 300-acre park with over 14 miles of interconnected single-track trail is managed by the Springfield-Greene County Park Board and is part of the Ozark Greenways trail system.
Race Distances And Start Times:
12 Hour Run: 7 a.m. to 7 p.m.
6 Hour Run: 7 a.m. to 1 p.m.
3 Hour Run: 9 a.m. to 12 p.m.
1 Hour Run: 9 a.m. to 10 a.m.
Packet Pickup:
January 27, 2024 at Sac River Mountain Bike Trails.
12 and 6 Hour Run: 6:00 a.m. – 6:45 a.m.
3 and 1 Hour Run: 8:00 a.m. – 8:45 a.m.
Registration Fees:
12 Hour Run: $95
6 Hour Run: $75
3 Hour Run: $50
1 Hour Run: $30
Course Info And Terrain:
The 4.1 mile Blue loop consists of moderately technical single-track with lots of rocks and roots. Marked with permanent BLUE signs, the perimeter trail meanders through hardwood forests and small glades and will be marked with temporary directional signs, survey flags and ribbons. Runners will trend uphill the first two miles and gradually descend the second two miles with approximately 200 feet of elevation gain per loop. IMPORTANT: All runners will start the race in the same direction but, after the first lap, may run the loop in either direction, checking in between each lap.
Tracking Mileage/Laps: Only completed laps will count for mileage. Runners must check in between each lap to ensure their completed lap is recorded. All laps must be completed before the end of the timed event in order to be counted.
Aid Station:
Only ONE aid station will be in operation during the race. Located at the start/finish line, our Base Camp Pavilion Aid Station will provide all the food, drinks, warmth, and support for our runners. Also, plenty of room is available around the pavilion for crews to set up tents and warming shelters for their runners. Port-a-potties and first aid services will be located at the Base Camp Pavilion Aid Station.
Swag And Finishers Awards:
All registered runners will receive custom, event specific swag. 12 hour and 6 hour runners will receive additional swag.
Refund/Rollover Policy:
The Bleak Midwinter Endurance Run will take place rain, snow, or shine. The only reason it would be cancelled is for safety reasons (due to extreme weather) or factors beyond our control (permit revoked due to weather or trail conditions, etc.). No refunds will we be available.
Dogs are allowed but must be on leash.